Auction Calendar
Auction Starts: Monday, Apr. 20, 2015, 6:00PM EST
Complete Auction of Brand New Hand Tools, Air Tools, & Air Compressors! First, this type of auction only comes around about once per year, and this is an entire VENDOR CREDIT Load! Meaning...that these tools were not sold and returned...the vendor gave store credit and these items are brand new or PRISTINE! We've got somewhere around 200 complete socket sets of all sizes and kinds. Stanley and BOSTITCH are USA Tools and our auction is full! Piece counts range from 40pc sets to 300pc sets, and all in between. Plus, specialty tool sets, gear wrenches, black chrome sets, deep well sets. We've got just about any hand tool you could ever imagine, plus all types of wrench sets, air painters, air impact wrenches, air hammers, hammers, pullers, and more!

We've also got a vast amount of tool boxes by bostitch and stanley. Not the gigantic ones, but roll around, ball bearing, table top, carry along, and more...both metal and plastic! And, we have over 30 brand new air compressors by BOSTITCH! These include horizontal and vertical air compressors. Each one of these were opened brand new!

Finally, we have a new John Deere Z235 Zero Turn Lawn Mower with a 20hp V-Twin Engine and a 42 inch cut. This lawn mower is off the showroom floor and is working perfectly! It will be sold with NO RESERVE as well!

Everything Sells Regardless Of Price!!!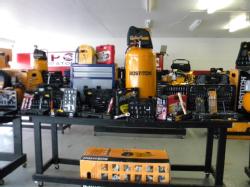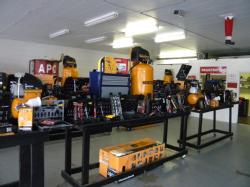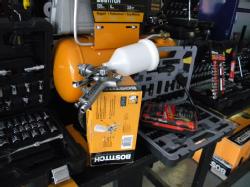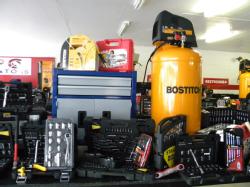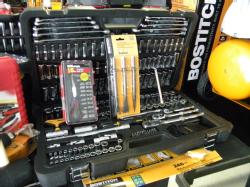 ---