Auction Calendar
Auction Starts: Monday, Jan. 16, 2017, 6:00PM EST
A New Load of Merchandise this week for a great auction Monday! This load has a little bit of everything on it, and it is super clean. Expect to see Fireplace Heaters, Amish Style Heaters, Turkey Fryers, Deep Fryers, HD Video Drones, Big RC Cars and Trucks, Office Chairs, Bicycle, Scooters, Coffee Makers, Blenders, Toasters, Toaster Ovens, Pressure Cooker Pros, Camping Gear, Camping Knives, Cordless Drills, Sheet Sets, Paper Shredders, Hunting Gear, Screwdriver Sets, Drill Bit Sets, Big Gaming Chairs, Lamps, Ceramic Heaters, Floor Lamps, LED Lights, Flashlights, Crock Pots, Convection Cookers, Palm Sanders, Small Refrigerators, Massagers, HD Dash Cams, OBD II Readers, TV Stands, Gaming Tables, Crock Pot Buffets, Candle Sets, Laundry Detergent, Toaster Ovens, Airless Deep Fryers, Baby Dolls, Griddles, Books, Train Sets, and tons more!

This auction has a little of everything, and definitely something for Everyone. Great bargains to be had this week...come out and join us!

Everything Sells Regardless Of Price!!!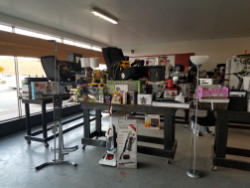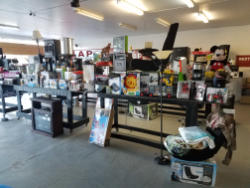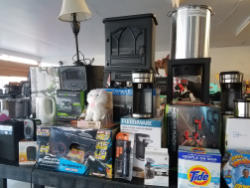 ---
Auction Starts: Monday, Jan. 23, 2017, 6:00PM EST
Super Nice HD.com Tool Auction this week! Lots of Milwaukee, Ridgid, Dewalt, Ryobi, Husky, and more! Expect to see Ridgid Cordless Drill Sets, Milwaukee Cordless Drill Sets, Ridgid Circular Saws, Milwaukee Shop Radio, Ridgid Compound Miter Saws, Ryobi Compound Miter Saws, Chamberlain Garage Door Openers, Husky Tool Boxes, Dewalt Too Trunks, Dewalt Sanders, Dewalt Nail Guns, Dewalt Air Compressors, Ryobi Backpack Blowers, Ryobi Chainsaws, Homelite Chainsaws, Ryobi Electric Pressure Washers, Blue Max Electric Pressure Washers, Ridgid 13 inch Planer, Ridgid Shop Blower, Ryobi Tile Saws, Ryobi Table Saws, Echo Chainsaws, Ryobi Handheld Blowers, Ryobi Gas Hedge Trimmers, Mailboxes, All types of Husky Socket Sets and Mechanics Tool Sets, Husky Tool Bags, Gas Weedeaters, Heavy Duty Hand Trucks, Step Aerators, Graco Paint Sprayer, Electric Chainsaws, Mini Refrigerators, Big Razor Electric Car, HDX Pancake Air Compressor, All types of Door Locks, Mailboxes, Pruners, Power Inverters, and tons more!


Everything Sells Regardless Of Price!!!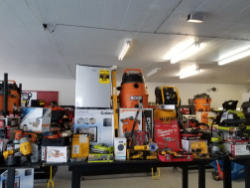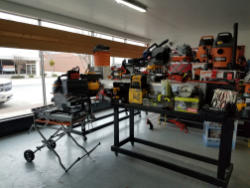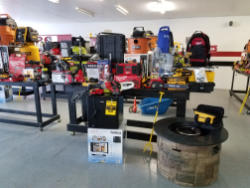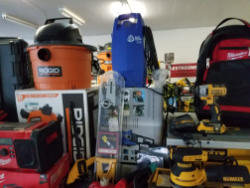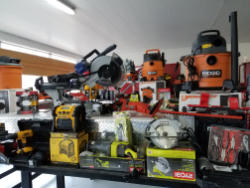 ---